FrachtRaum Hamburg
Unorthodox, purist interior design with fine details and a magnificent view make this loft space an exclusive event hotspot and workspace in Hamburg's most elegant city location. Situated high above Bleichenfleet and Neustadt, FRACHTRAUM HAMBURG offers extraordinary views with skyline and style in one place.
This is ensured, among other things, by wide, floor-to-ceiling window fronts and two large roof terraces.
REQUEST OFFER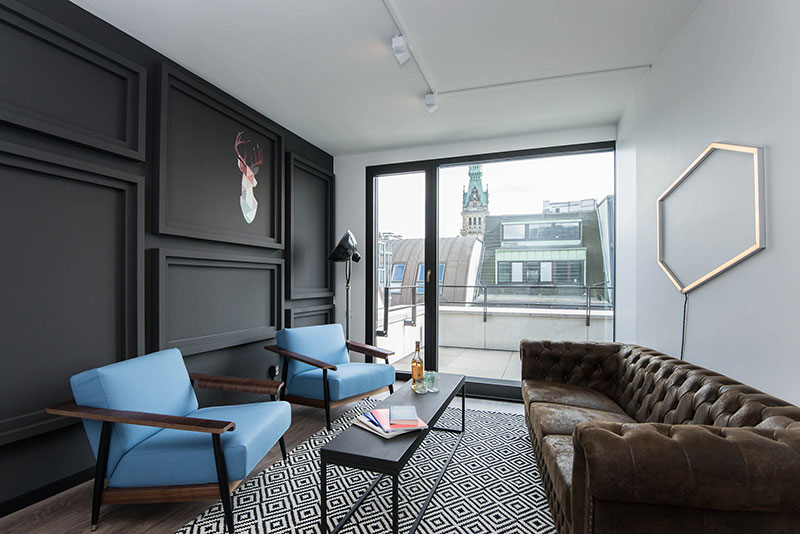 Merken
Merken
Depending on the Purpose of the Event, the Loft Can Be Configured Accordingly.
For meetings, presentations or smaller gatherings with up to twelve people, there is a separate room, Off the Wall. For larger events with up to 60 people, the entire space can also be booked. Whether exclusively sitting or a mix of sitting/standing – the FrachtRaum Hamburg is a freely functional arena for any occasion. It is timeless, flooded with light and perfect for focusing on the good and the essential. The central Coffee Lounge is also the ideal place for meetings with snacks, finger foods and drinks.
The Loft has, among other things, two large flat screens (60" and 42"), projector, projection screen, individually controllable sunshades, presentation cases, a Sonos sound system and high-speed WLAN. The space on the sixth floor is barrier-free and accessible by elevator. This is the best space for meetings, events and celebrations in the middle of the city with the best view of everything that may come.
An Overview of the Facts and Figures
Merken
Send Booking Request
You can use the form to request a booking for one of our venues.
We appreciate your interest.
SEND REQUEST