FrachtRaum Hamburg
It's always nice to look out over Hamburg. This is a guarantee, not a request! With two large roof terraces and floor-to-ceiling windows, the city is never out of sight! The FrachtRaum has a brilliant view, which is located high above Hamburg's Neustadt district, and offers you a workplace that every Hamburg citizen will envy.
Divided into six sections, you're bound to find the right spot for your event in this location: The Log Cabin provides peace and quiet required for a conversation between two people or for small teams of up to six people. An area where people cannot listen in, this space is perfect for all important and confidential conversations that the world isn't ready for yet.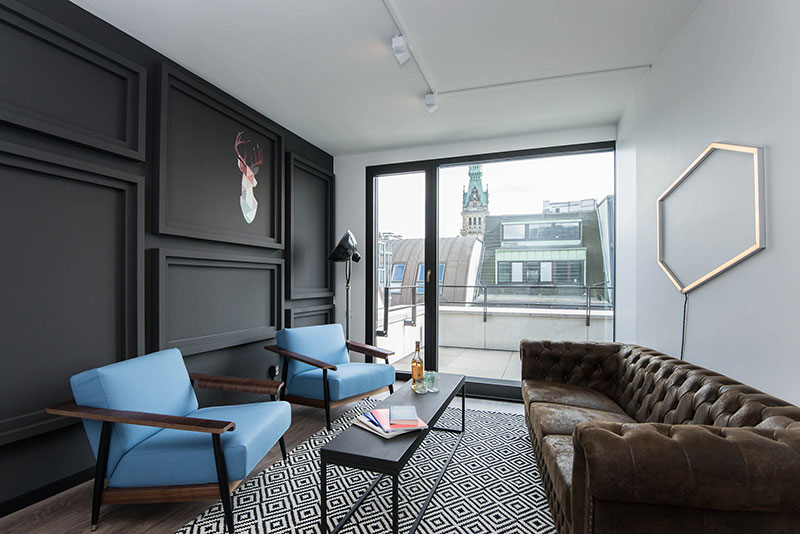 Merken
Merken
"Off the Wall" – the name says it all: it is very unorthodox.
Seating and meeting facilities can be arranged for you and up to 11 other participants in any way you need them. And if you need a break at any point, just take a look across the Alster lake. Or towards the Elbe Philharmonic Hall. Or would you rather look at the town hall?
Those who have great plans need a lot of space! The "Arena für Alles" and "The Stands" offer you the space you need for projects with a vision. "No walls, no limits" is the motto! What else is this room capable of? Ask St. Michael's Church – it's the one with the best view into this creative workshop from its steeple in the centre of Hamburg. Or maybe it's you with the best view – of the church!
From time to time, you need to take time out when being creative so that you can come up with imaginative new ideas and concepts. The best place to refuel is in the bistro, the library or in the Tic Tac-Cube. Fancy putting your feet up with a few friends?
Merken