Business Catering in Hamburg With Traiteur Wille
At Traiteur Wille we understand very well that you do not want business as usual for your business catering. For over 30 years, companies have trusted in our culinary ideas and appreciated the variety of our venues in Hamburg. We like to call it Catering Couture. We look forward to tailoring your next business event.
30 years of catering experience
Regional products
Fast delivery
Vegetarian and vegan variety
Homemade delicacies
Individual culinary concepts
How Do We Design Catering for Your Business?
Definitely, individually. Business catering is the culinary accompaniment to a successful business meeting, whether discreetly in the background or as a perfectly arranged event highlight. The sense for good food connects people worldwide and provides for interesting conversation. That is why we, at Traiteur Wille, always design your business catering as a custom-tailored occasion. For you and your guests we create regional specialties from Hamburg and Northern Germany, offer a surprising variety of vegetarian and vegan dishes and also compose fusion food, where we blend different cultures culinarily. Breakfast, business lunch, corporate dinner, finger food or open kitchen at a big event – we deliver on point. Because passion for fine cuisine is our business.
Business Catering in Hamburg à la Traiteur Wille

Contact us
You can reach us via the contact form, by phone or quite oldschool, in person, at our location. We will be happy to advise you on all questions concerning your business catering.

Made to measure
Business catering from Traiteur Wille is Catering Couture. You will receive an offer that suits your individual event. After all, it is the details that contribute to the success of your event.

Culinary delights
Our team works with fresh regional products and takes into account the special wishes of your guests in the process. Fine culinary art made in Hamburg.

Service on point
We accompany you through a successful day – from the initial planning to the final service on site. You and your guests can enjoy the event and we make sure that everything else runs smoothly around the catering.
Our Creations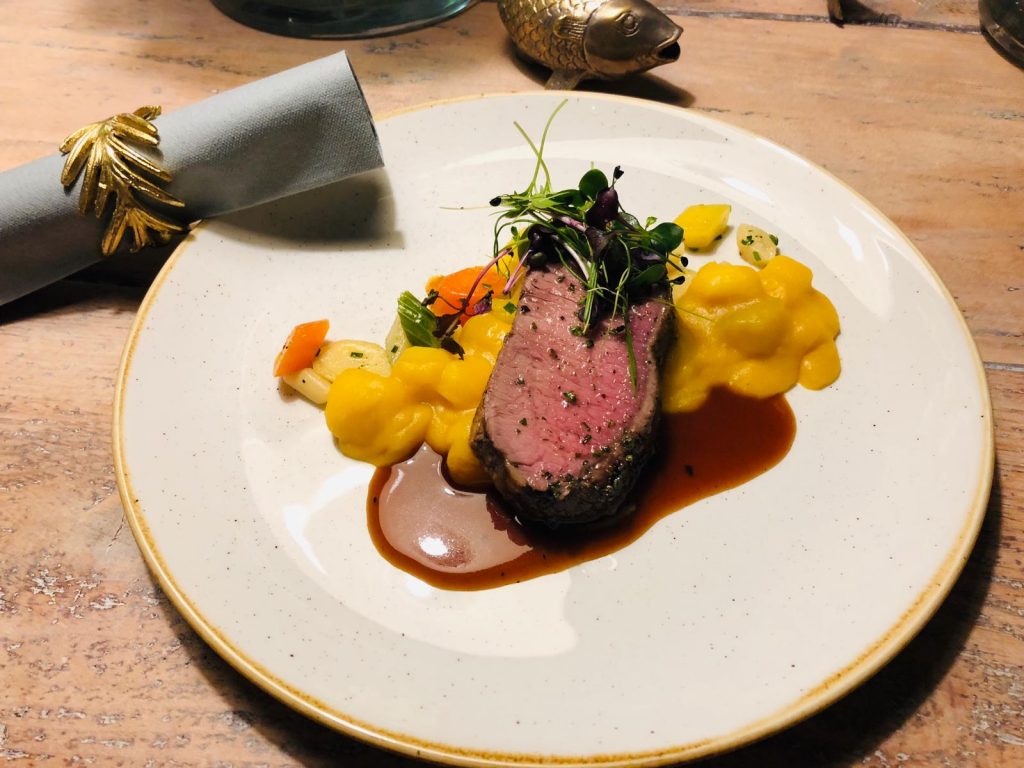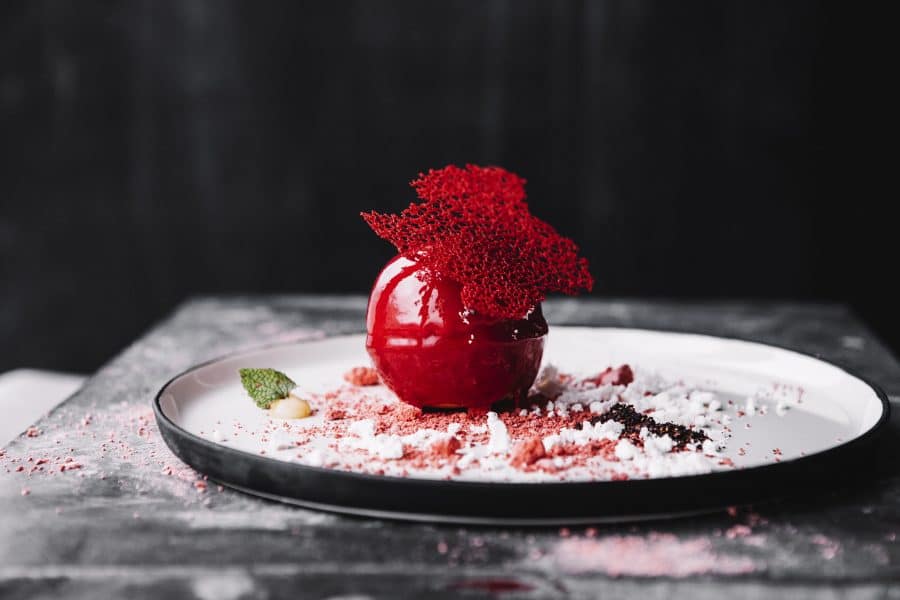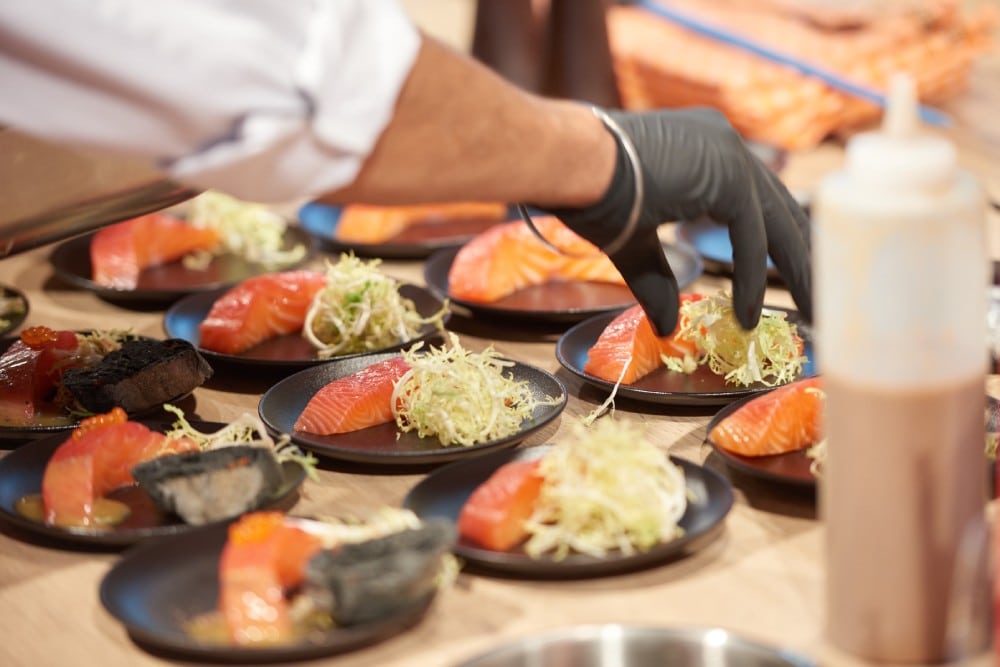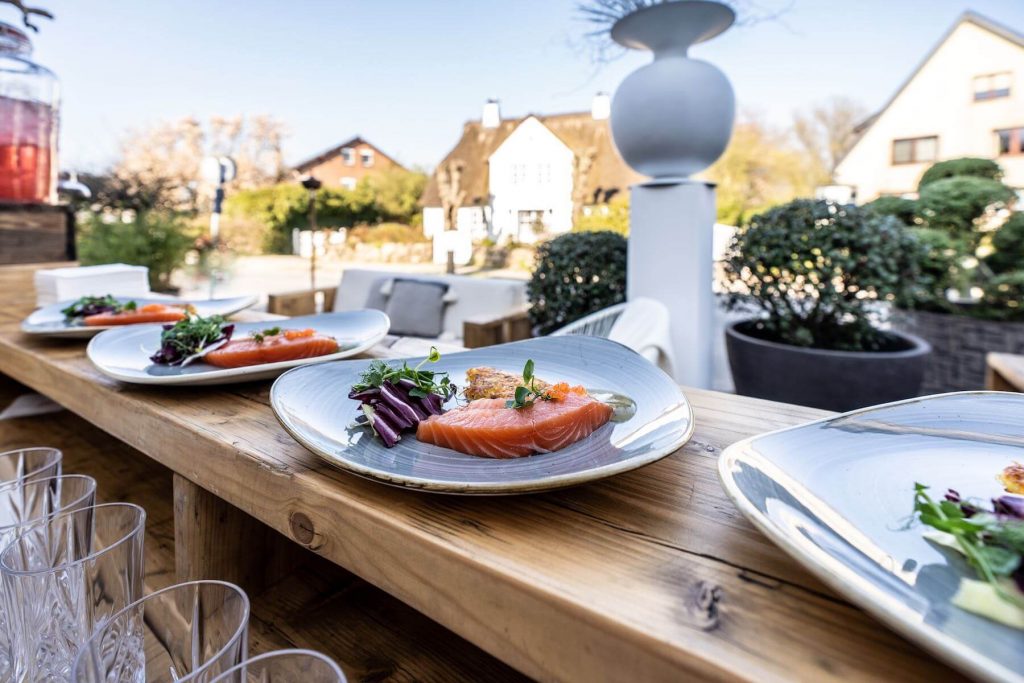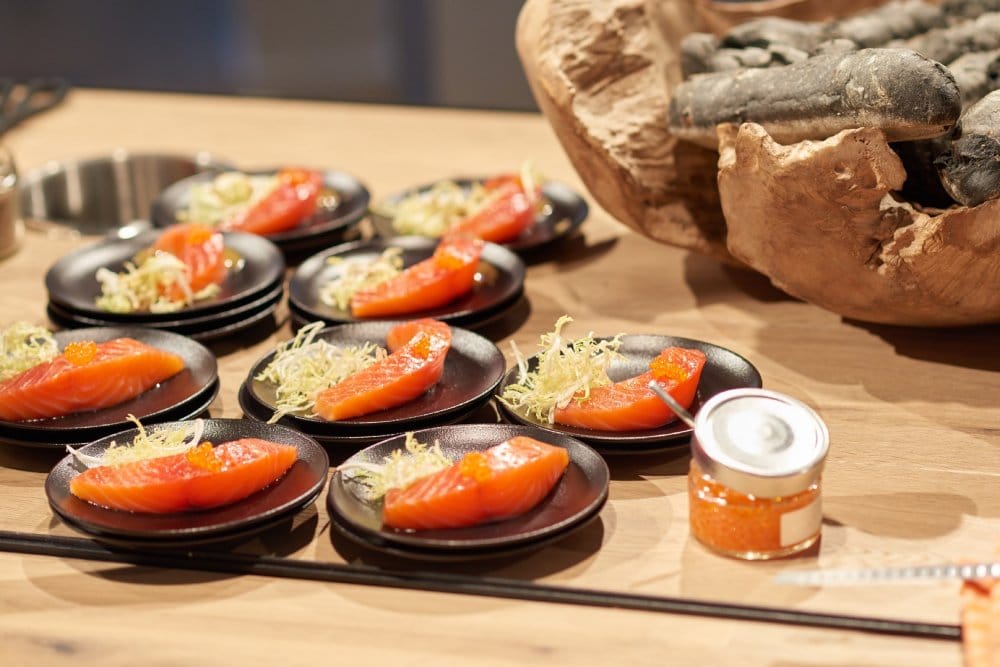 Business Catering by Traiteur Wille - the Customer Journey of Our Culinary Art
For 30 years we have been creating culinary journeys for events of all kinds – not only in Hamburg, but throughout Germany. Start-ups, family businesses as well as global players know us and appreciate the interplay of fine culinary art and perfect service at Traiteur Wille. Customized business catering made in Hamburg.
30 years of catering experience
Regional products
Selection for vegetarians and vegans
Delivery and service to the point
Catering for any Occasion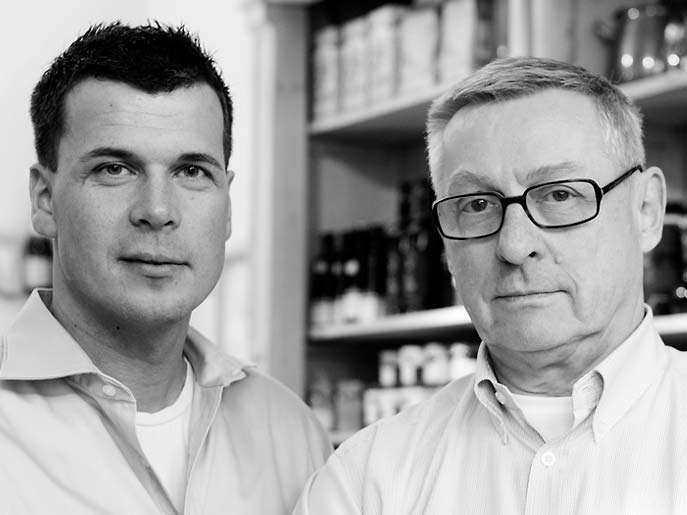 We are Traiteur Wille
Since 1989, Traiteur Wille has been working for people and companies, accompanying them at celebrations in Hamburg and throughout Germany. It all started on our premises in Winterhude. Today we have a fully grown network with great partners, with whom we have designed many events and offer exciting event locations. You can also rent our own bistro for your celebration.
Das sagen unsere Kunden
"Wenn Kunden und Team zu einer Familie werden, dann ist Traiteur Wille mit am Start.
Kompetent, innovativ, anpackend, und so herrlich gut launig am Start – so wird jedes Catering
zum Highlight und Hochgenuss. Sie lieben was sie tun – dafür lieben wir sie.
Immer gerne an eurer Seite"
Anna Fauth-Schüller
Das sagen unsere Kunden
"Wir lieben es, mit Traiteur Wille zusammenzuarbeiten, da wir uns auf die Qualität und den Service zu 100% verlassen können. Die Vor- und Nachbereitung der Events ist jedes Mal überdurchschnittlich detailorientiert und das ganze Team ausgesprochen hilfsbereit. Für uns ist Traiteur Wille seit Jahren einer der besten Caterer in Deutschland."
Kim Karina Rathmann
Das sagen unsere Kunden
"Wir haben mit Traiteur Wille, rund um das Team von Christian Rose, bereits diverse Veranstaltungen unterschiedlichster Formate umgesetzt. Ob Großveranstaltungen mit unterschiedlichsten Food-Cornern oder hochkarätige Gala-Events mit außergewöhnlichen Rahmenbedingungen: Von der Konzeption, über die Planung und Organisation bis zur finalen Umsetzung hat immer alles gepasst. Vielen Dank und macht genau weiter so!"
Oliver Fliege
Business Catering in Hamburg Has a Tradition at Traiteur Wille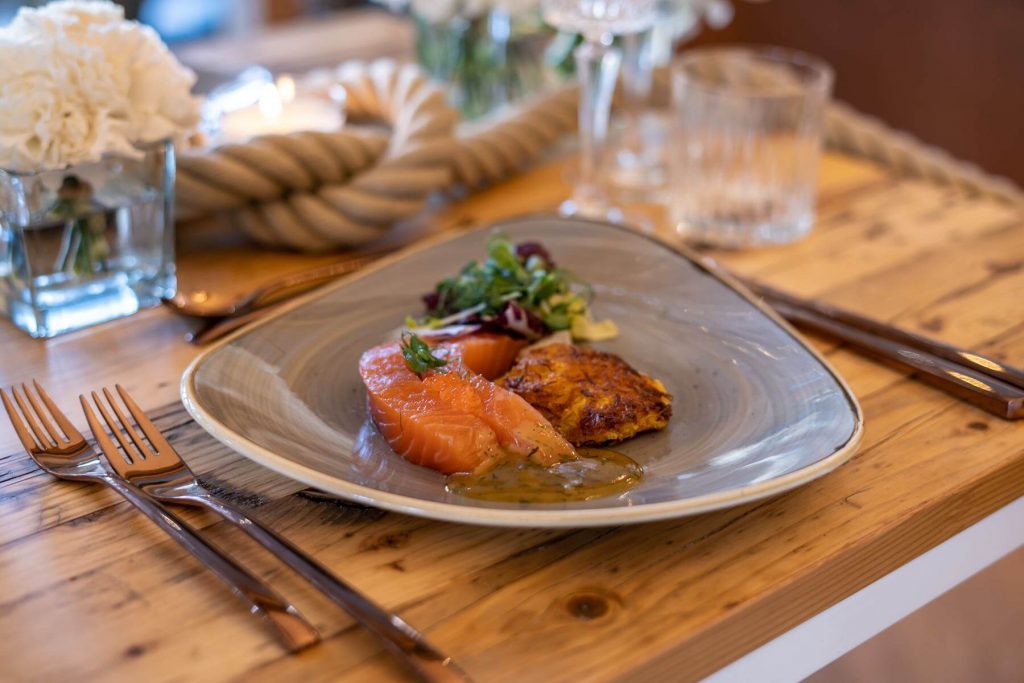 In our kitchen we like to create new ideas and work with regional products out of conviction. We also like to blend these elements with recipes and ingredients from all over the world. As a result, we have provided a great variety of culinary experiences for which our customers appreciate. Whether it is a business lunch on a small scale or a big summer party with hundreds of guests: At Traiteur Wille we see every event as an exciting task to connect people through fine culinary art. Apparently, word has got around. Subsequently, we are now not only on the road in Hamburg and the surrounding area, but also accompany business events for companies in all industries throughout Germany.
You define the framework of your event, we take care of the individual culinary arrangement, the service on site as well as the perfect location for any number of people. Catering Couture for all events in your business tailor-made by Traiteur Wille. Of course, we not only take care of the fine food and drinks for your guests. Upon request, our team can arrange your entire event. From the appropriate tableware to the ambience to the full service on site, including set-up and take-down. After all, we work so that you can celebrate events.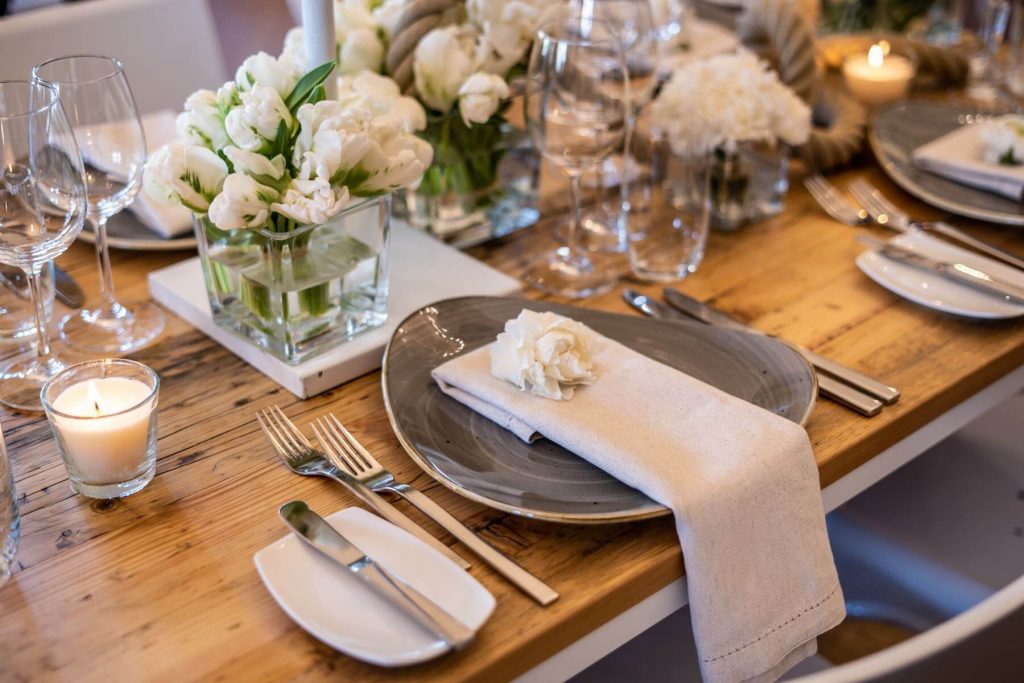 Whether Business Lunch or Company Celebration - Catering With Many Ideas
Every business event has its own purpose, and as such, having the appropriate catering can contribute to its success. At Traiteur Wille, we therefore view each order as an individual task, whether it is to discreetly support or put into place eye-catching highlights. Shared culinary experiences connect people – that is our job as caterers and we accomplish this with our passion for fine culinary art. We will be happy to advise you on which arrangement suits your business event, fulfill individual wishes and accompany you through your event.
Whether it's a short business lunch or an intensive conference, a small get-together or a large party: we provide finger foods, cold or warm buffets, culinary journeys as a menu or an exciting street food ambience with an open kitchen. At Traiteur Wille we have many ideas and offer numerous possibilities from the precise delivery of your food and drinks to the complete event service. Feel free to ask us how we can successfully accompany your business event culinarily.
Frequently Asked Questions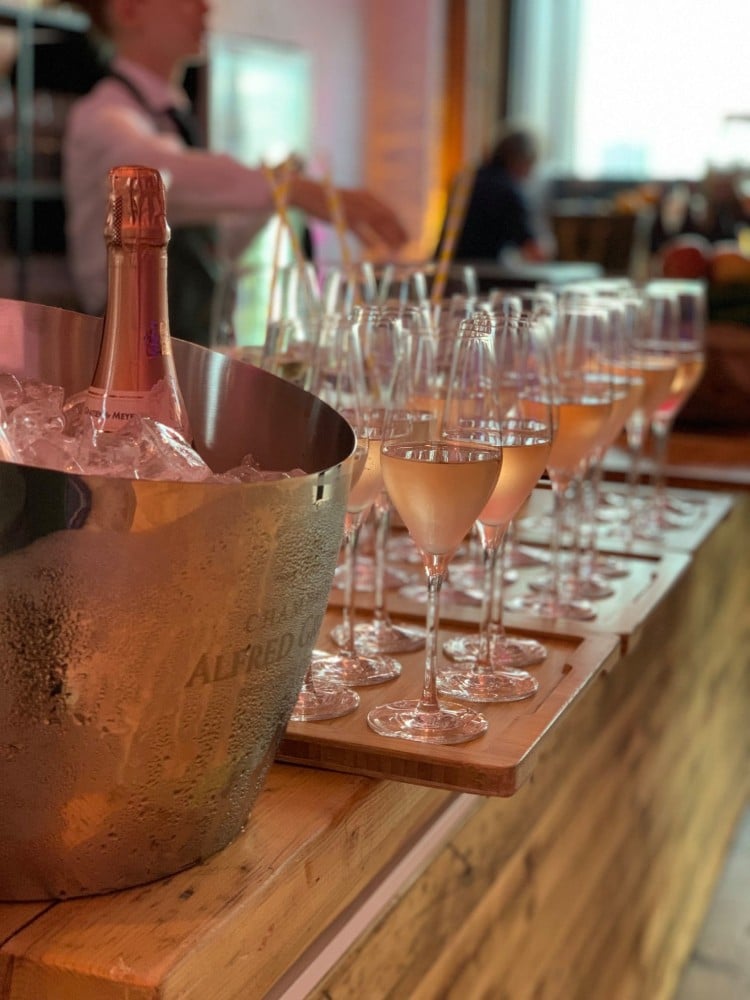 Our Plan for Your Business: Fine Culinary Points.
Catering requires not only good timing, but also a feel for the occasion and the people with whom you do business. We have many ideas to help you with this. For example, at your business lunch we could provide fine finger foods such as saffron crêpe with Parma ham and arugula crème or our Quiche Lorraine with leek, ham and spicy sour cream. For guests who prefer vegetarian, we are happy to create our whole-grain hazelnut crêpe with Mediterranean mushroom filling or organic quark cream with lemon, chervil and quinoa. We also offer many vegan alternatives, such as our truffled celery tart.
If you prefer a hot or cold buffet, we start with our popular appetizers: Pickled Fried Mackerel with Cilantro Mayo and a Trilogy of Cream Cheese, Pumpernickel and Zucchini with Vegetarian Caviar. For the main course, we can recommend our gratinated oven pasta with celery walnut stuffing or cod loin in fennel crusted animal jus. For a fine finale, choose your favorites from our diverse selection of delicious desserts.
Individual Catering for Small to Big Business
Whether B2B, B2C, brainstorming or get-together – we plan and accompany your business events in Hamburg. We offer discreet background catering for meetings as well as a full program for big parties. From timelessly classic to avant-garde, everything is possible. Individuality à la Traiteur Wille included.
Whether Start-up or Global Player - Culinary Performance for All
We are happy to work for companies of any size. Whether start-up, traditional family business or global player – we make no distinction. After all, our customers appreciate us for delivering the right idea for every occasion – fine culinary art, excellent service and a wealth of know-how. Choose our culinary journey for your next business event.
100 % Organic From the Region - Also a Tradition With Us
At Traiteur Wille we only use regional products of organic quality – an attitude that has a long tradition with us. We know our suppliers and the producers of our fresh products and enjoy working with them. Because we share with them the view that quality is not only something you can taste, but that you should also support the work behind it. Sustainable business and fine food go together wonderfully – an attitude that has united us with customers and partners for many years.